You Only Have One Reputation. We Help You Protect Your Most Valuable Asset.
The mainstream use of the Internet has brought with it the rise of social sharing online. Buyers share opinions on social media, rate products and services on ratings sites, and leave reviews for what they've purchased. Talent recruiters look through candidates' social profiles and what's been said about them online. If people find negative ratings, reviews, and opinions, they start looking at other options.
For Companies
A tarnished business reputation means decreased sales and lost market share. Negative ratings and reviews place doubt and anxiety in shoppers' minds. Reputation management stops the damage from negativity in online search results, so potential customers have confidence in your product or service.
For Career Professionals
Hiring decisions are increasingly made based on information online. What appears in the search results when recruiters or hiring managers Google your name? A carefully-managed online reputation can be the distinction that moves your career forward.
Up With The Good, Down With The Bad
Online Reputation Management works by pushing negative comments, ratings, and reviews further down the online search results, replacing them with positive posts, social profiles, and press releases. When potential buyers search for a company's product or service, or when a recruiter researches a candidate's name online, positive information appears instead of negative.
Our process for online reputation management is straightforward and effective:
We create diverse, high-quality digital content that highlights the positive. We share the correct information and showcase positive reviews about your company's products or services via websites, blogs, and other digital assets that we produce.
We optimize these resources using proven SEO strategies. As the positive sites begin ranking well in online searches, the negative content begins to move further down in the results, becoming harder for potential customers to see.
We typically see results in three months or less. And we continually monitor and adjust our efforts to make sure your business reputation stays stellar.
Why Trust Us With Your Reputation?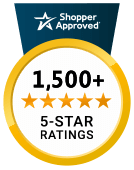 Since we're talking about reputations, it's only reasonable that we talk about our own. We're a talented team that's passionate about providing the best customer experience possible. After four years in the industry, we've helped over 3,000 individual and business clients. We have a five-star ranking on ShopperApproved.com with over 1,400 customers feedback ratings.
Feel free to click on the reviews to see more detailed ratings and additional testimonials.